Lilium has a large delivery radius, which covers most of the Dallas/Fort Worth metroplex. You are as likely to spot one of our signature black vans in south Arlington, Azle, or Frisco as you would in Colleyville or Southlake. However, we do have to draw the boundary lines somewhere. If we are unable to design and deliver your arrangement ourselves, we offer wire services.

Quality
We know you expect the highest quality, in both design and product, from Lilium. When you need delivery outside our area, we turn to a wire service network that includes florists across the country. These select florists offer a quality and style are similar to our own. In other words, you wouldn't be sending an "FTD" or "Teleflora" arrangement.
When placing a wire order through Lilium, simply provide all of the same information you would if you were placing a local order. You can do this either over the phone, or through our online ordering system. Once we have this information, we will search our network to match your needs with a florist near the delivery location. In the event that location is in a remote area, or one not serviced by a florist in our network, we will let you know right away so that you can make other arrangements.
Value
Customers often think that it is much more expensive to wire flowers than to simply call an out-of-town florist directly. That is not necessarily true. Lilium charges a $5 wire service fee. Otherwise, the cost is comparable to a local delivery. It is true that there are some variables that will affect the cost. In New York and California, for example, the flower prices tend to be higher. Delivery fees also vary, depending on the location.
While we do not have direct control over the finished arrangement, in-network florists are selected to meet high standards. We will work with the network florist to communicate your specifications, and insure delivery per your instructions. Should there be any challenges with the delivery, we will stay on top of it until delivery is successfully accomplished.
Order With Confidence
A few simple tips will help insure a successful wire delivery:
Provide a complete address, including a business name, suite or apartment number, and any specific instructions that will help the delivery driver.
ALWAYS provide a contact phone number for the recipient. In fact, the wire service will not accept an order without a contact phone number for the recipient. In major metropolitan areas, florists will not even attempt delivery until the recipient verifies that they are present to receive it.
Let the florist know what you have in mind, but don't be overly specific. Allow the floral designer to use their creativity with the florals and greenery that are available to them in their location. What is in season or readily available in one area of the country may not be in another. If you prefer a particular color palette, definitely share that. Specify whether you want a tall or low arrangement. Then let the designer take it from there.
Be realistic. Use the gallery on the Lilium website as a guideline. The florists in our network have comparable pricing. Don't ask for a tall arrangement with a "wow factor" and provide a budget of $75. You will be disappointed. Our staff is happy to guide you through the order to be sure your expectations are met.
Most florists in the network must receive the order by 11 a.m. for same day delivery (in the U.S.).
International, Too
Our wire service does encompass many international destinations, including the United Kingdom, Paris, Berlin and Istanbul. Unfortunately, the service does not include Mexico, Central and South America, and the Caribbean Islands at this time. When in doubt, just ask!
Delivery fees will vary, depending on the location. Minimum order amounts and pricing will vary as well. You should allow 2-3 business days to process international orders, so plan ahead.
Another variation is the style of arrangement. It is most common in Europe to make hand-tied bouquets, without a vase. If you want the bouquet delivered in a vase, you have to specify that, and expect to pay an additional $20-$25.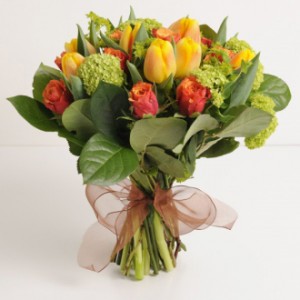 We are pros when it comes to wire orders, and we can help take the guesswork out of the process. While you won't be sending a Lilium arrangement, we will help you get as close as we can.